My cat needs a grooming table, or maybe not
Our cat, the newly groomed and grumpy from the last blog post, does occasionally get a grooming. It's not a popular activity and is usually endured while protesting, loud meows and biting the comb is normal. As most cat owners we've invested in some equipment to the beloved furball. We have combs, anti static spray (when you can see sparks flying you really need that), food bowls, tree climber, scratching post, travel crate and litter box. We also have a very expensive cat bed in the form of the corner section of our Ekornes sofa, so I've managed to resist all the cute cat beds I keep seeing around the pet shops.
In spite of all this I keep discovering things our cat don't have. This morning the pet store at Laksevåg had a big sign advertising grooming tables for pets. Grooming table? Hm, maybe that would be something? If we have one our cat might get a grooming once a week instead of once every two weeks? As he is an himalayan experts would say he should be groomed every day, so once every two weeks is not quite enough. But, do we want another thing taking up space at home and couldn't kr.1400,- (a little over US$200) be used on something we need even more, or at least something more fun? The old stool and my lap has functioned fine as grooming tables for almost 14 years (he's 14 years and a week old today!) and I suppose they'll do for while longer. We didn't visit the pet store today.
When we got home I couldn't stop thinking about grooming table. I had to go online to see what they looked like, just to satisfy my curiosity. What a disappointment! The grooming tables didn't live up to my expectations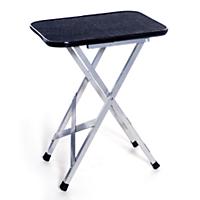 at all. I imagined them being very practical and cute with storage room for all the grooming stuff you might need, kind of like a baby bathinette but with a sturdier surface.  The grooming tables were sturdy enough, but they're not cute and have no storage room. I'm sure you can buy some extra equipment to go with it, but for me they were such a disappointment that our cat will never get a grooming table.
Posted on March 6, 2010, in Just life and tagged Cats. Bookmark the permalink. Comments Off on My cat needs a grooming table, or maybe not.